Egetmanns Schweflmaschin
Every year, even in those in which no Egetmann parade takes place, the Egetmann association Tramin publishes its Carnival newspaper "Egetmanns Schweflmaschin".
A small group of people, which are called the "Schwefler", begins shortly after the Epiphany with the sorting of reports, rhymes and verses which are sent by the population. During the year the Schwefler and Traminer collect and record the slip-ups from the village life, which afterwards will be presented in the carnival newspaper in rhymed and unrhymed way.
This illustrated chronicle in dialect is printed in an edition from 600 to 800 pieces. For most of the stories the accompanying drawings and cartoons are self-made by expert hand.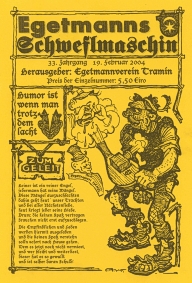 Keiner ist ein reiner Engel,
jedermann hat seine Mängel.
Diese Mängel auszuschlachten,
dahin geht heut' unser Trachten
und bei aller Nächstenliebe,
heut kriegt jeder seine Hiebe.
Drum: die keinen Spaß vertragen,
brauchen nicht erst aufzuschlagen.
Die Empfindlichen und Faden,
werden hiermit ausgeladen
und die keinen Spaß versteh'n
soll'n sofort nach Hause geh'n.
Wem es jetzt noch nicht vermiest,
und wer bleibt und weiterliest,
dieser hat es so gewullt
und ist selber daran Schuld!