Exhibition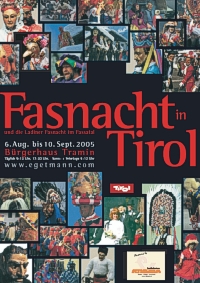 Traveling exhibition "Carnival in Tyrol"
Since a long time there is a close contact between the Egetmann association of Tramin and the North Tyrolean carnival clubs, especially with those from Imst. Celebrating the passing of a traditional North Tyrolean carnival symbol to the Swabian fools in Bad Dürrheim they come up with the idea of creating an exhibition about the carnival in Imst. But the original project was soon expanded. Various clubs have been contacted, also the Egetmann association Tramin, and now eight locations participate in these exhibitions.
The first exhibition in Bad Dürrheim was a great success. And also during the second exhibition in Telfs the interest was just as strong.
Exhibition in Tramin
Werner Dissertori, the mayor of Tramin, called Saturday 6 August 2005, a day of rejoicing. The reason: For the first time eight Tyrolean carnival locations jointly presents in South Tyrol. Exhibition venue was the community center of Tramin.
---
Photos: